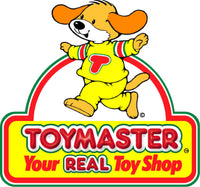 New Ross toymaster
We in the Irish Toymaster stores go the extra mile/km to offer you a friendly face to face customer service but for those times you cant visit to browse we also have click and collect option. Our stores are an integral part of their local community and they get involved in community activities, support clubs etc in our home towns. Every Toymaster store is independently owned selling toys that are sourced for each unique locality, we have many years of experience in the toy trade and use this knowledge to predict the coming trends, so you can trust Toymaster to do its best to bring you the latest hot/trending toys straight to the shelves in our local towns.
We also have a presence on facebook and instagram where we have extra content.
Some of the many brands we stock online and in store.